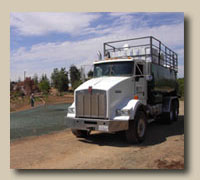 Sports Turfgrass Seeding
Park Site #60, Rocklin, CA


An application of BFM on a
construction slope in Folsom, CA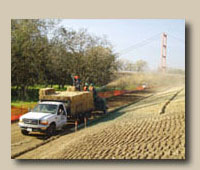 Levee stabilization, American River
Parkway, Sacramento CA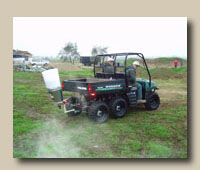 Broadcast seeding and fertilization
in San Joaquin County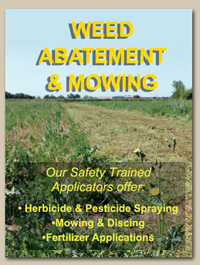 Vegetative Fuel Reduction and
Noxious Weed Control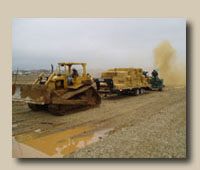 An application of straw mulch and tackifier
to bring this site into SWPPP compliance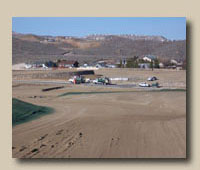 Dust control at a home development
site in Reno, NV


Hydroseeding
For medium to large scale projects, hydroseeding is the most economical and basic form of seed establishment utilized for turf & native grasses, wildflowers, and erosion control mixes. The "1-Step Method" consists of a 4-Part Slurry:
• Regionally selected seed varieties
• Fertilizer component tailored to site conditions
• Hydromulch fiber to aid in uniform seed disbursement & moisture retention
• Tackifier to bind the slurry for uniform seed to soil contact during establishment
BFM/SFM - Bonded Fiber Matrix & Stabilized Fiber Matrix
A 1-Step Application, but is enhanced with an engineered fiber product containing additional mechanical or hydraulic bonding agents.
• BFM or SFM applications can also be applied without seed and fertilizer if vegetation is not desired, but where erosion control is required, and water shed opportunities are maximized.
Straw Blowing
Straw blowing is the most cost-effective method to reduce soil erosion and sediment runoff on active and inactive construction sites. This methodology provides superior erosion control protection by limiting soil particle run-off resulting from rainfall at construction sites. The following 2-Step Method can be modified with the addition of a seeding application to create the 3-Step Method.
• Pneumatically applied at rates determined by analyzing site conditions
• Sealed in place with Hydromulch and Tackifier to reduce wind erosion.

Dust Control
This application is used to inhibit soil particulates from entering the atmosphere and polluting air quality. Dust palliatives are often applied to bare soil at construction sites or industrial facilities to hold soil in place and reduce the possibilities for wind scouring.
• Process produces no undesirable runoff constituents
• Addition of hydromulch is recommended for optimum results
Broadcast & Drill Seeding
Seed placement is accomplished by mechanically injecting the seed, fertilizer, and inoculant components into the soil surface at pre-determined rates; often the preferred method for wetland mitigation projects.
• Ensures excellent seed to soil contact
• Closest to the natural re-seeding process, especially for native species
revegetation
• Custom mixes can include: Native grasses, clovers, and wildflowers

Weed Abatement & Mowing Services
Our licensed, professional, Weed Abatement Program utilizes "Cultural Practice Integration" with mowing, discing, and herbicide spraying to
successfully meet your state and local compliance requirements for
Vegetative Fuel Reduction and Noxious Weed Control on:
• Construction Sites
• Industrial Yards
• Development Property
• Roadside Right-of-Ways
• Municipal Facilities, including parks and open space corridors
Services for native grass establishment include: analysis of irrigation,
nutrient applications, and mowing.
SWPPP Compliance
Mark Seeding Services offers installation and site monitoring services for your Storm Water Pollution Prevention Plan, (SWPPP), to effectively meet your governmental compliance needs so your company avoids costly fines, and delays in project completion. We also offer certified SWPPP plans when needed.
• Silt Fencing• Erosion Control Blankets• Straw Wattles
• Drain Inlet Protection• Gravel Bags• Straw Blowing
• HYDROSEEDING• HYDROMULCHING

Agronomic Consulting
The foundation of any successful vegetation establishment and erosion control protocol is a specification package tailored to site conditions and project objectives.
• Agronomic Reports include: installation, establishment, and maintenance
methodologies.
• General agronomic review of design and establishment protocols yields
maximum project cost-effectiveness.


---